Once the rains cleared out, we had beautiful blue skies again.  With the good weather we had framers again, working away from where they left off.  Over the week, there was a lot of debris created which ended up on the front yard.  Before long though, it all made itself to the dumpster and we're pretty close to having to have it dumped and a new one brought in – again.
From the beginning, one of the details that we knew we wanted to improve was the whole fireplace situation.  The original house's pre-fabricated wood burning fireplace with its stone hearth and cedar beam mantle was very dated.  The plans include replacing it and we've already started taking the fireplace apart, but the chimney also needs some work.  An original 'Craftsman' house would have had a brick fireplace with a brick chimney as there was no such thing as pre-fab fireplaces back then.  Also the chimney would have been properly sized to surround the flue tile and not much more.  To create the illusion of a 100 year old house, we knew we'd need to take that huge cedar-sided chimney that came with the house and reduce it down to a more authentic size . . . and then brick veneer it to match the new brick on the house.  So the framers referred to the plans with the new dimensions shown and totally re-framed the chimney to the new size.  We're going to replace the old pre-fab fireplace with another more-authentic looking one, and the chimney – well that's going to be brick.  Just you wait and see.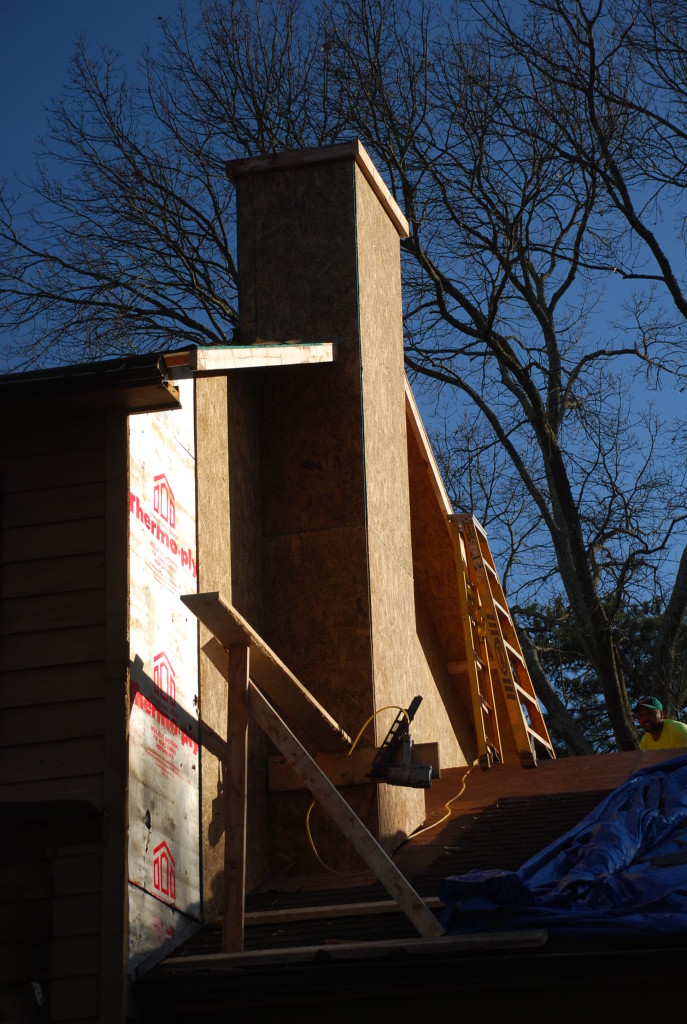 Another detail was that the original house had been sheathed with a very popular old product called Thermo-ply Sheathing.  This was basically a piece of hardboard – kind of like masonite but less dense, covered with aluminum foil on each side.  It was used everywhere in the 80's and 90's and claimed all sorts of amazing things.  We debated whether to leave it in place and just put the new siding on top of it or to take it off and replace it with OSB sheathing.  The debate was won when we found out that it was not stiff enough for the cement siding product that we planned to use, which would 'ripple' if not placed over a more rigid material (like OSB).  There was a day or so of good weather, and then rain again.  I think I'm sensing a pattern here.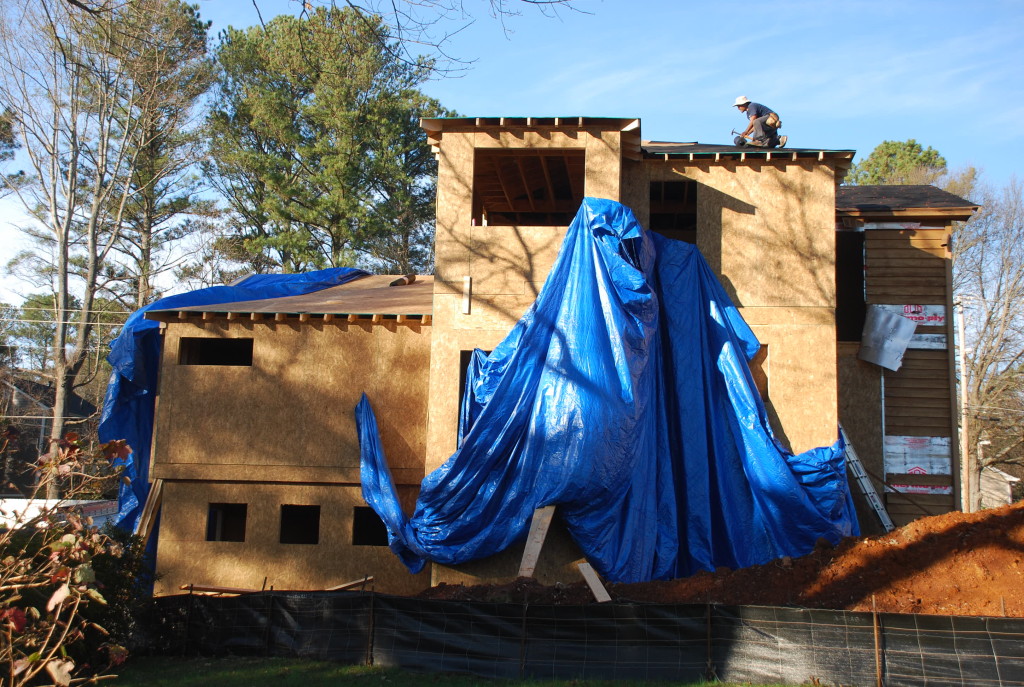 Once the skies had cleared a bit, the framers were back on top finishing the roof framing, then putting plywood decking on top, and then felt paper to protect it from the next cycle of rain.  When it rained, there was still work to do inside putting up new walls and moving door openings around per the plans.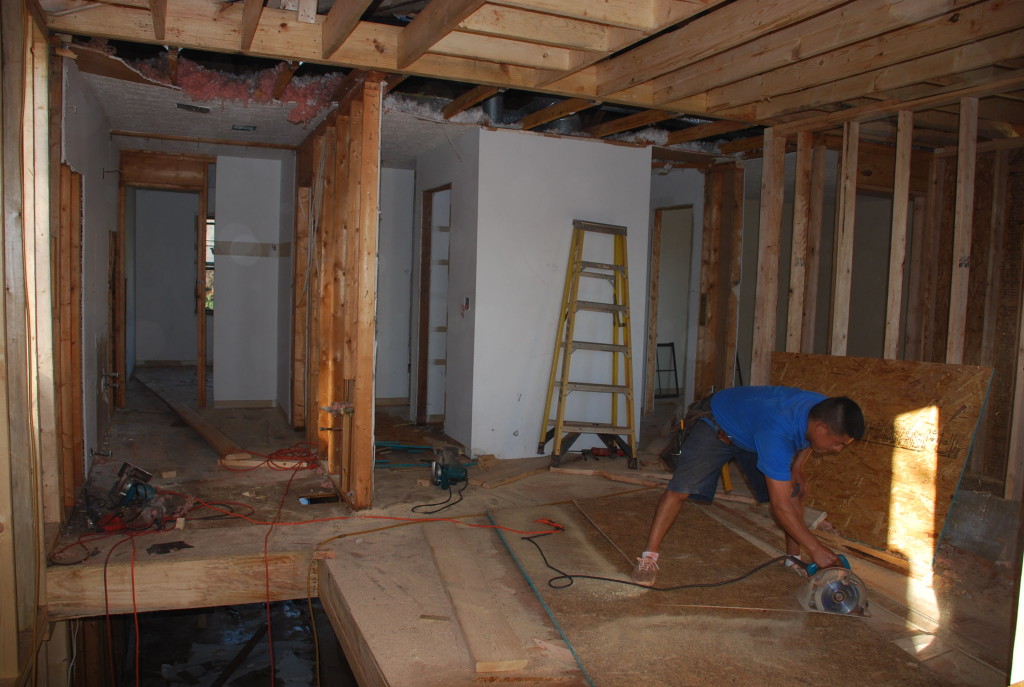 And then it was raining again.  Thank goodness we're almost dried in – those tarps are starting to sag a little.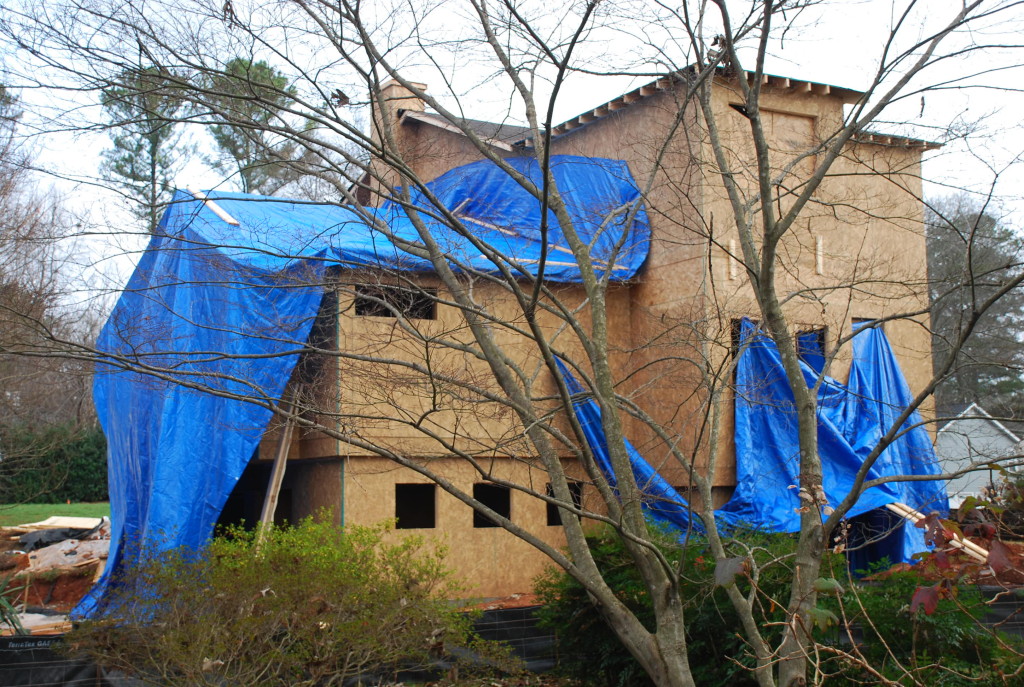 The upper roof was pretty much covered with felt, but there were still some places on the lower roof that needed to be protected, especially where the room met the wall and around the re-framed chimney.  All of those intersections will need flashing before they are waterproof.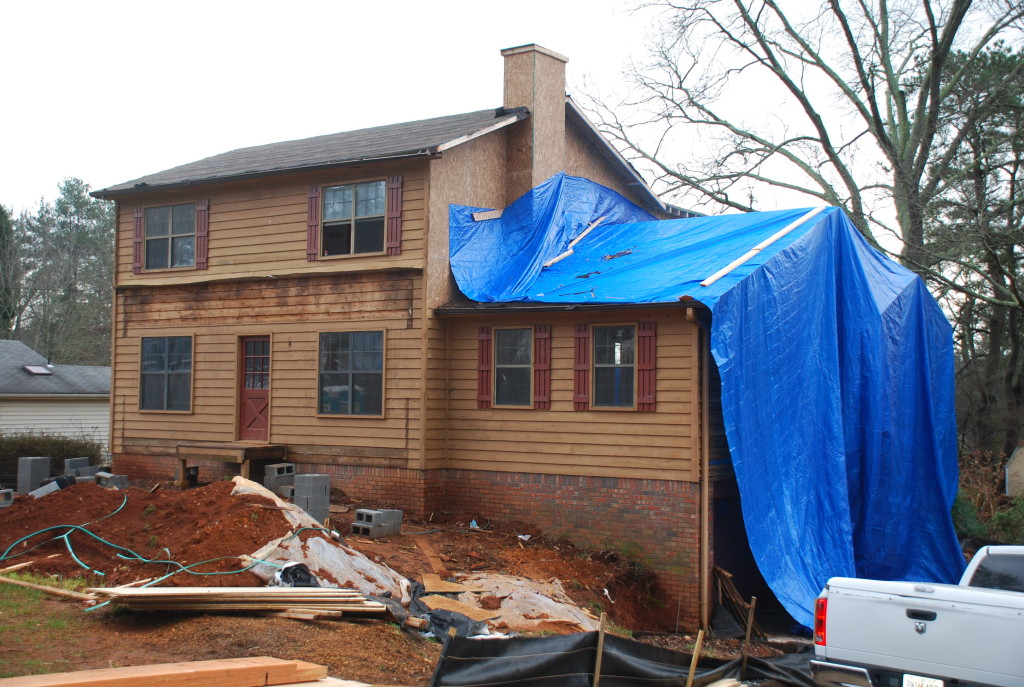 Back inside, the second floor needed some new walls and before long, both Bathrooms were framed up and pretty close to being ready for plumbing.  With the back of the house opened up to the Addition, we could get a pretty good feel for how the Loft was going to be.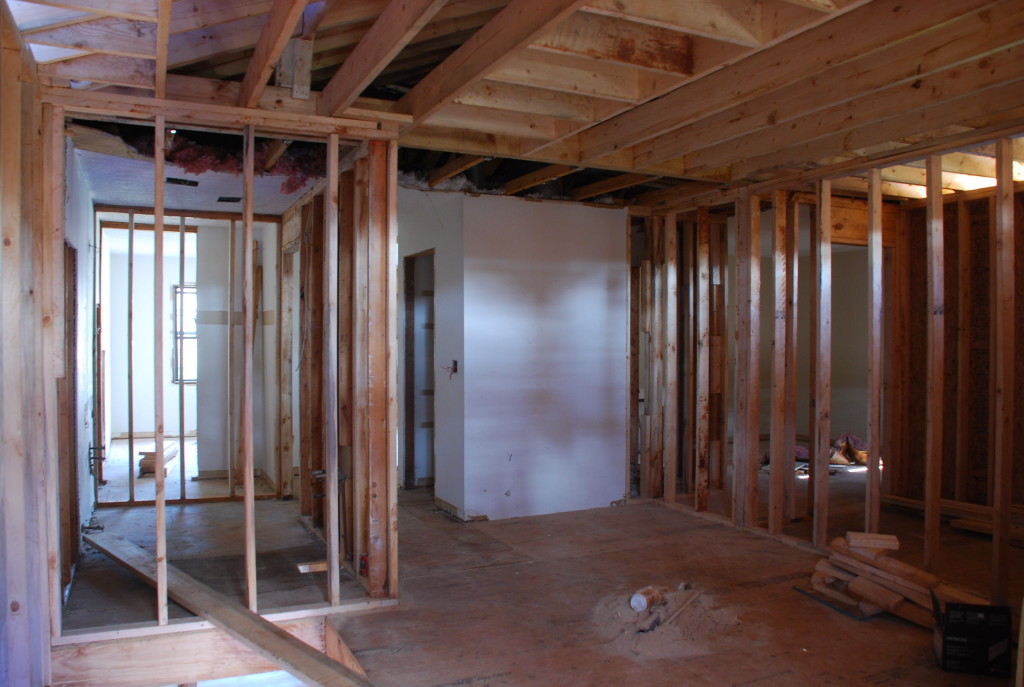 We're talking about putting a video projector up there and creating a makeshift Media Room.  It could be pretty cool, but some more details to work out before we make that decision.