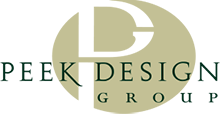 Peek Design Group was founded in 2000 with a desire to create truly special custom homes that combine classic elevations of traditional American homes with contemporary open floor plans. The Peek team shares a deep respect for the traditions of architecture and a creative spark that keeps burning both inside and outside the office.
Peek Design Group provides its clients with custom, detailed designs that are both creative and cost-efficient. For every project, we go through a definitive 4-step process: Imagination, Preliminary Design, Construction Drawings, and Construction.
637 Polk will become a showplace for Peek Design Group in addition to being the residence of the company's principal, Dale Peek. Dale and his family have lived in the home since 1980.
For more information about Peek Design Group, please visit peekdesign.com