We're trying to stay ahead of the subcontractors with our selections, but it is tough.  Choosing the tile has been particularly difficult because there are simply so many options.  It is helpful that we are working toward a consistent 'Craftsman' look, and we have many resources available, but the choices are still difficult.  Lauren, our principal designer at Peek Design Group has been invaluable in helping us through this and many other aspects of the design.
After trips to tile stores and reviewing historical precedents, we are starting to pull somethings together and brought them to the house so that Tom and his crews can get started next week on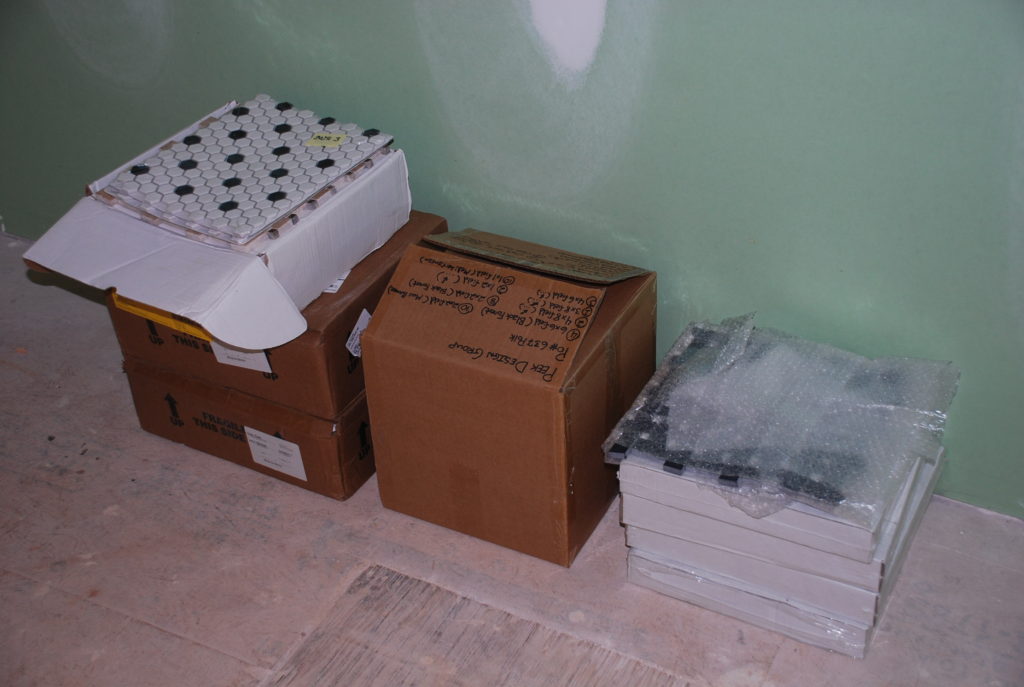 Also this week, Viktor and his crew came back in to wrap up some of the interior trim items.  When they were here before they ran most all of the crown and base, trim for all the windows and doors, as well as the wainscot on the First Floor.  Now they were back with most of the built-ins and all the closet shelving.
Here's an example of one of the closet units – all wood with very nice brackets supporting a shelf and a backer panel.  The rods will be metal and will be here later.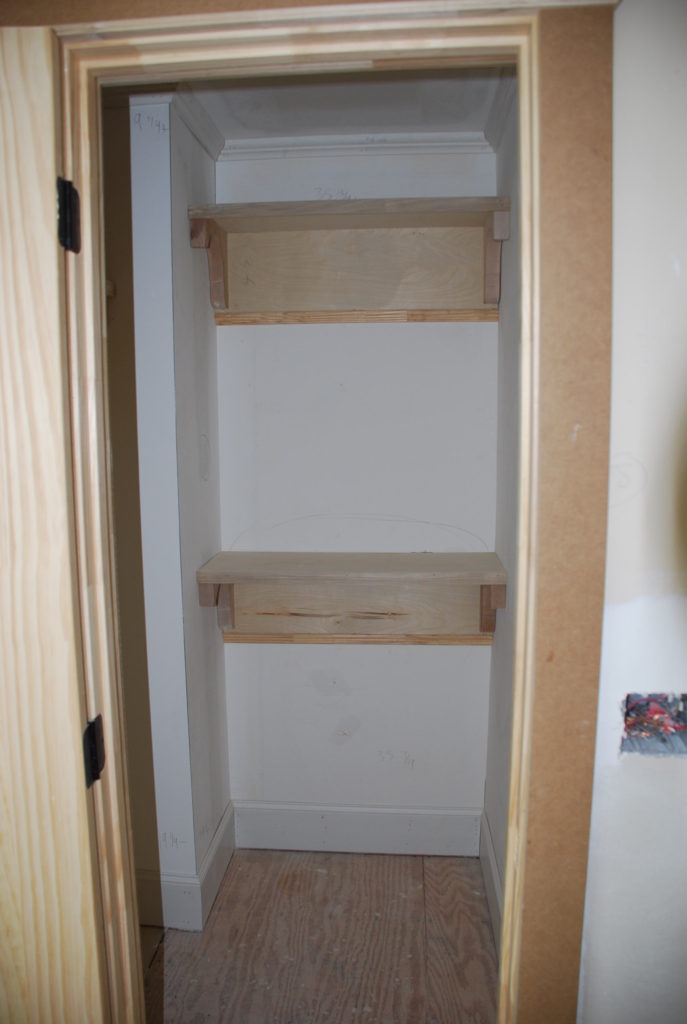 He also finished up the trim under the windows in the Dining Room.  We had to get some special corbels to support the extended sill for them to use.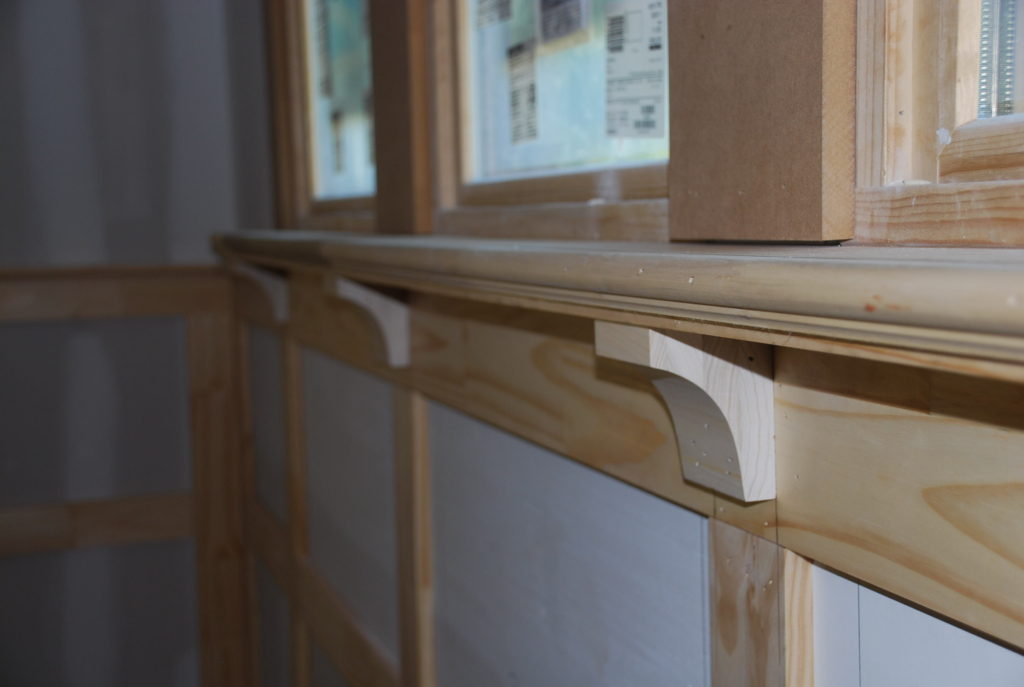 There were a few trim details that we asked them to do as well.  As we were picking out the paint colors and deciding what goes where, we realized that it would work better if we added one more section of wainscot at the top of the stairs – on the left side wall.  Here it is in place.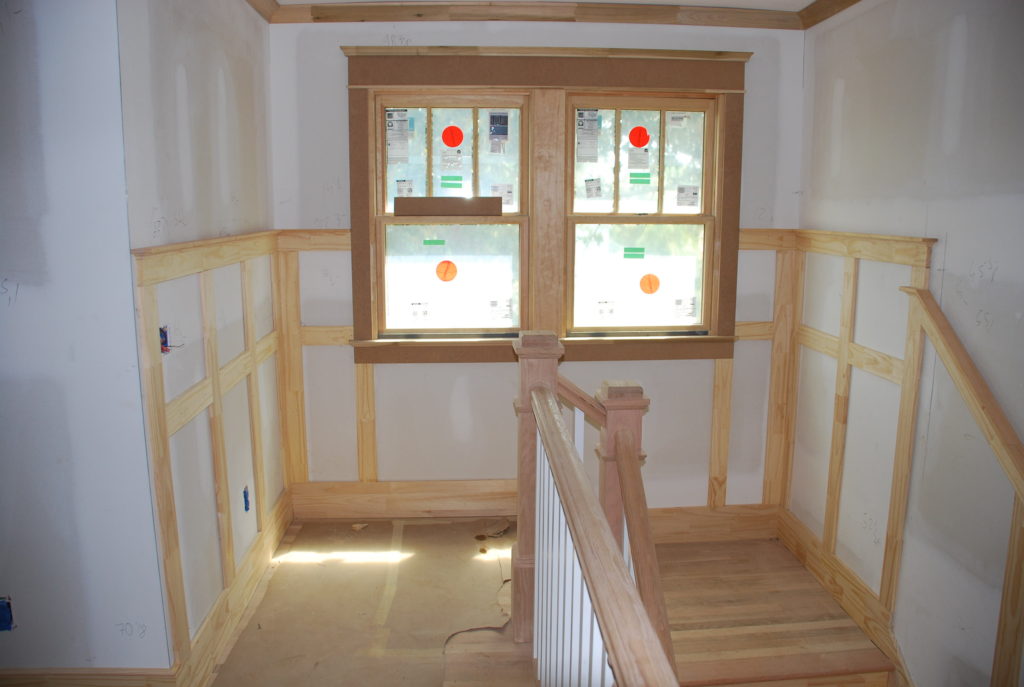 The front door also showed up this week and is ready for stain.  It is built of red oak and has a shelf under the glass which is typical of the 'craftsman' period.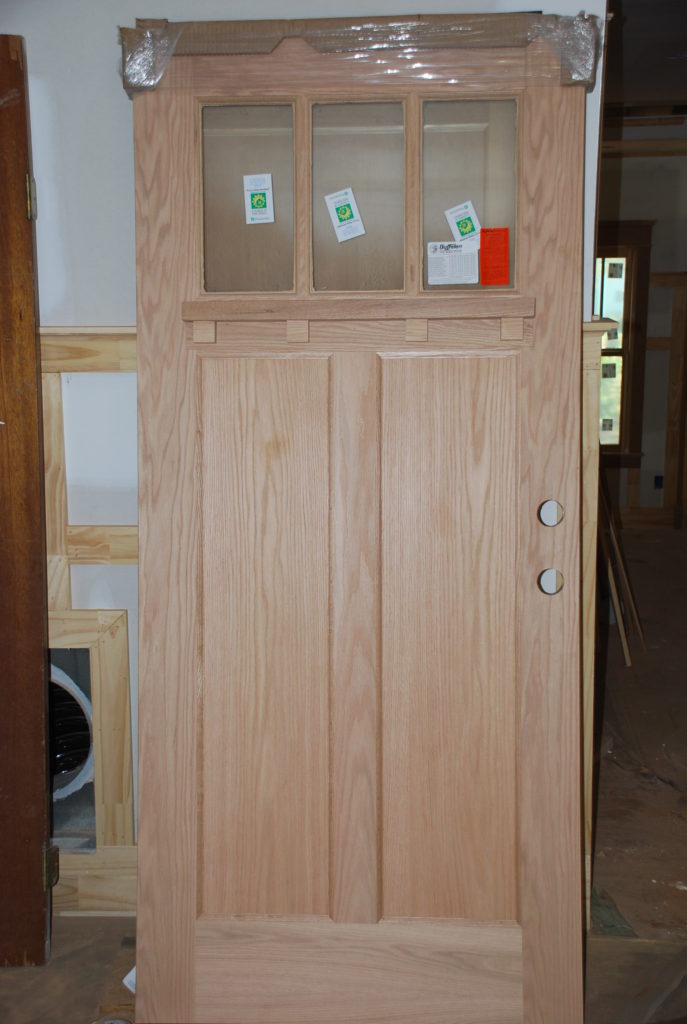 On Saturday we resolved that we were going to wrap up the trenching detail and went to work filling in all the remaining trenches around on the front side where the drain pipes are.  After a couple of weeks of sitting and being rained on, the clay piles that had once been loose soil after being dug up by the trencher had become rock hard again.  We pulled out our tiller to break up the soil and then shoveled and raked the dirt into the trenches.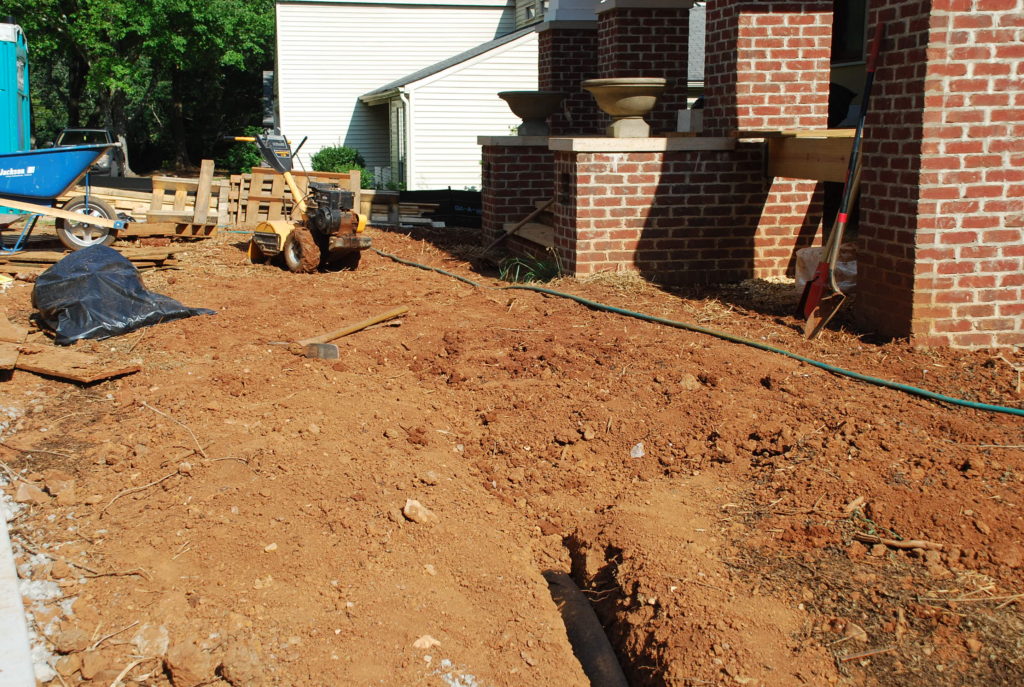 Finally, all the trenches are filled in (except for a little more behind the driveway) and we can move on to the next of many remaining tasks.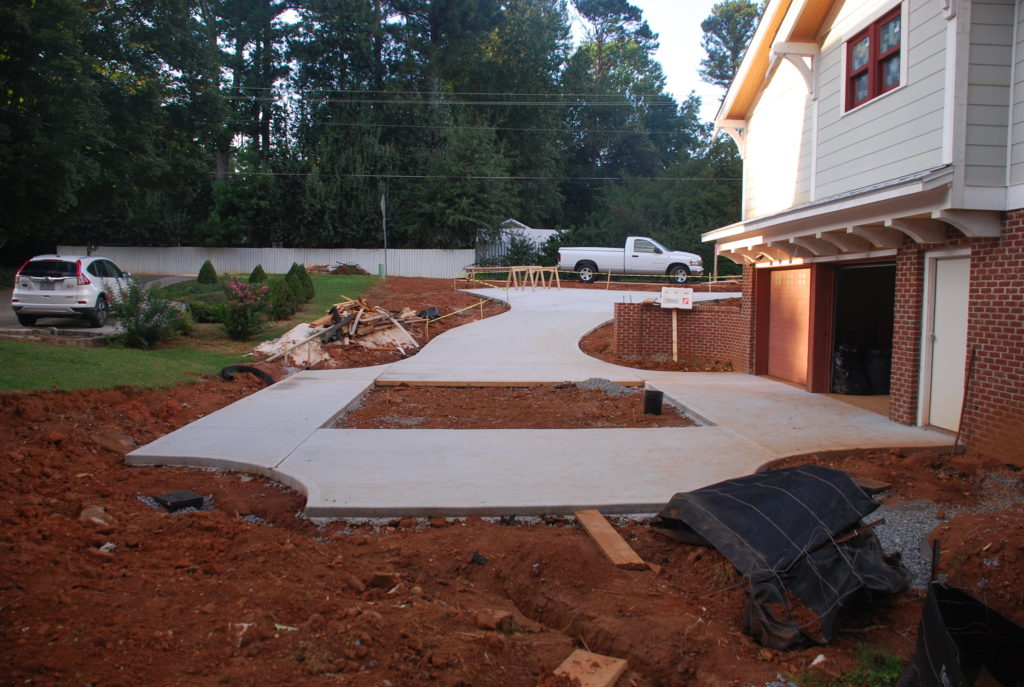 One of those is to dispose of the last remaining crapemyrtle.  You will notice that I've spelled it differently since referring to them earlier.  As I was listening to my favorite gardening radio show last Saturday, Walter Reeves let all the listeners know that this name should be ONE word, not two!  So today I Googled the question and it took me to this page – crapemyrtle, where Walter pontificates about the question.   His explanation was good enough for me – so now I spell it like he says.
Andrew ended up talking his Dad into letting him have the other two crapemyrtles, but this one was too heavy for their loader to pick up, so they abandoned it in the back yard.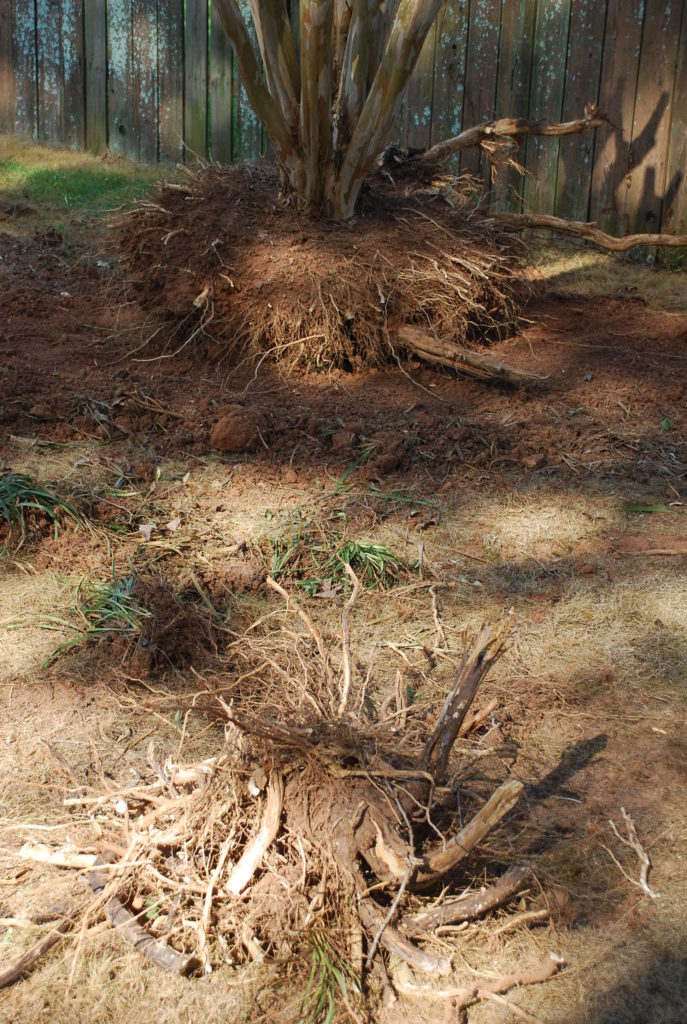 We determined that the only way to get it out was to prune it down to a manageable size.  The trunks are going to be easy to remove with the chain saw, but the root ball is what is so heavy.
So Stephanye and Dale took turns digging dirt out of the roots and slowly it began to be reduced in size and weight.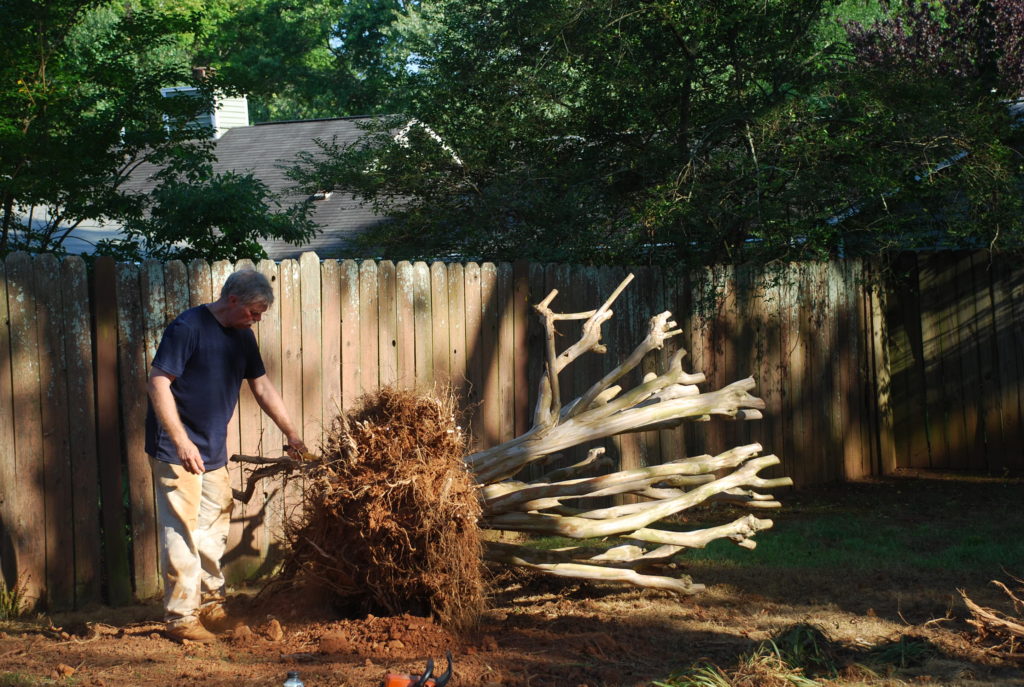 We still have a ways to go, but it probably shed a couple hundred pounds.  Next weekend we'll chop some more and chain-saw the trunks for the city to haul away, but they probably won't take the root ball.
We are starting to pick up momentum, but it is increasingly difficult for Tom to get the subcontractors out on schedule because everyone is so busy.  When the housing market is bad, prices go down and subs are begging for work.  But when the housing market is good (like it is now) . . . then watch out!